Stay productive isn't always easy, especially when you have multiple tasks at hand. In situations like this, it's best to go with a to-do list app that can list down all the things you want to get done and make the most of your day. Since there are already plenty of great to-do list apps for the iPhone, we decided to take a look at some of the best free to-do list apps available for Mac.
List of Best To-Do List Apps for Mac
Each of us has a different way of managing our tasks. So choosing the right option for you is crucial, if you are planning on checking every task off your list. Thankfully, there are a plethora of options for the best to-do list apps for Mac that might suit your preferences and we will discuss them individually along with their pros and cons.
Todoist
One of the most well-known apps on our list is Todoist. It is a free to-do list app available for Mac with a minimal interface and lets you create tasks, set a due date, and assign a priority level so you know what's important.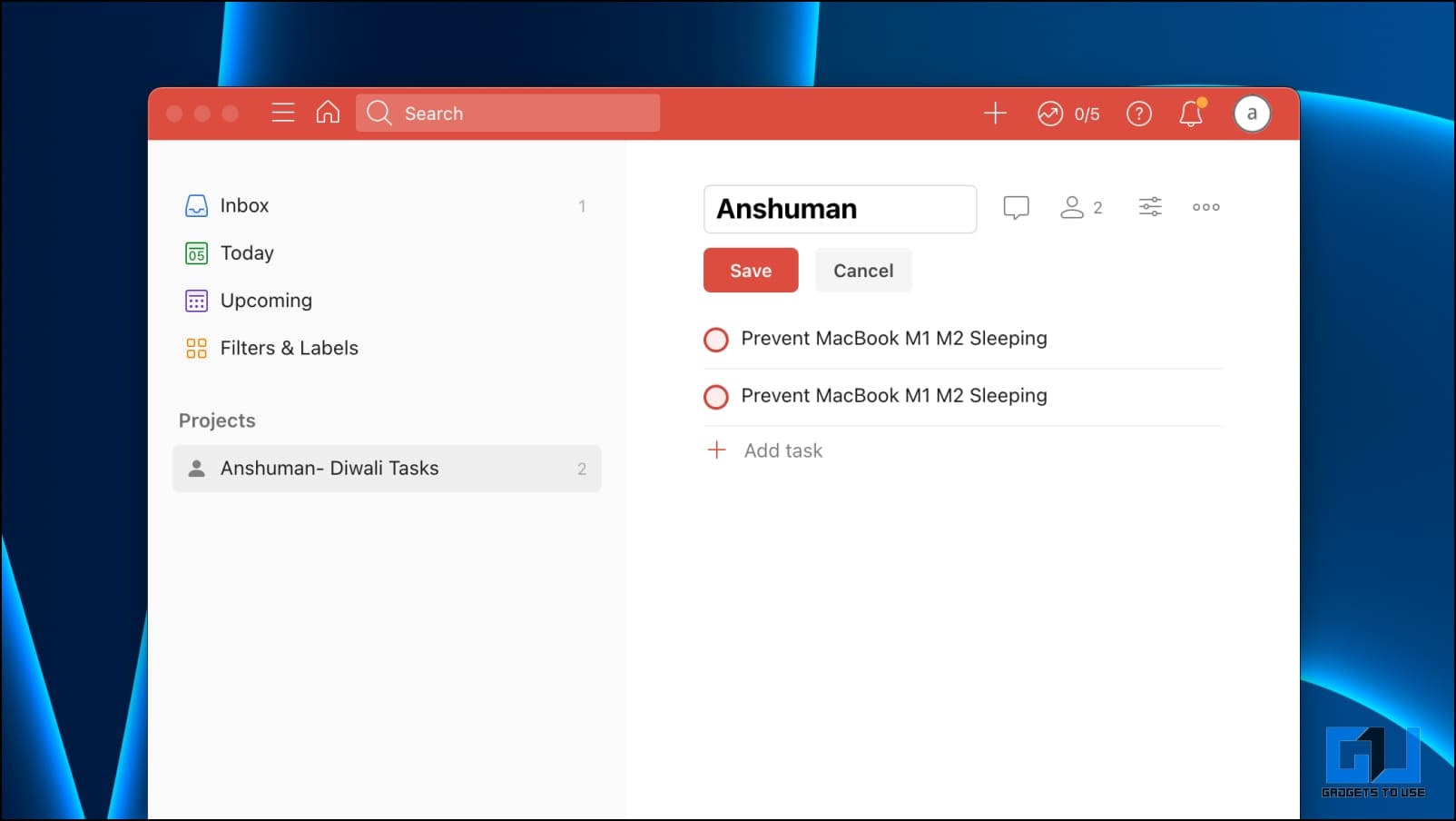 Todoist also lets you share or assign tasks to others so it can be used in an office environment. Todoist also Creates a productivity report based on the tasks completed. The app is available on all platforms.
The only downside with Todoist is that the option to add reminders, labels, and filters is locked behind the pro version. Besides that, the app is free to use.
Pros:
Creates productivity reports based on tasks completed.
Available on all platforms and devices.
Lets you create shared tasks or assign tasks to others.
Cons:
Useful features like labels and reminders are not available in the free version.
Download: Todoist
TickTick
TickTick makes it easy not only to manage tasks but also to add them as well. You can create recurring tasks of things you do regularly so you don't have to enter them every day. A quick Siri command can add a task or turn emails into tasks.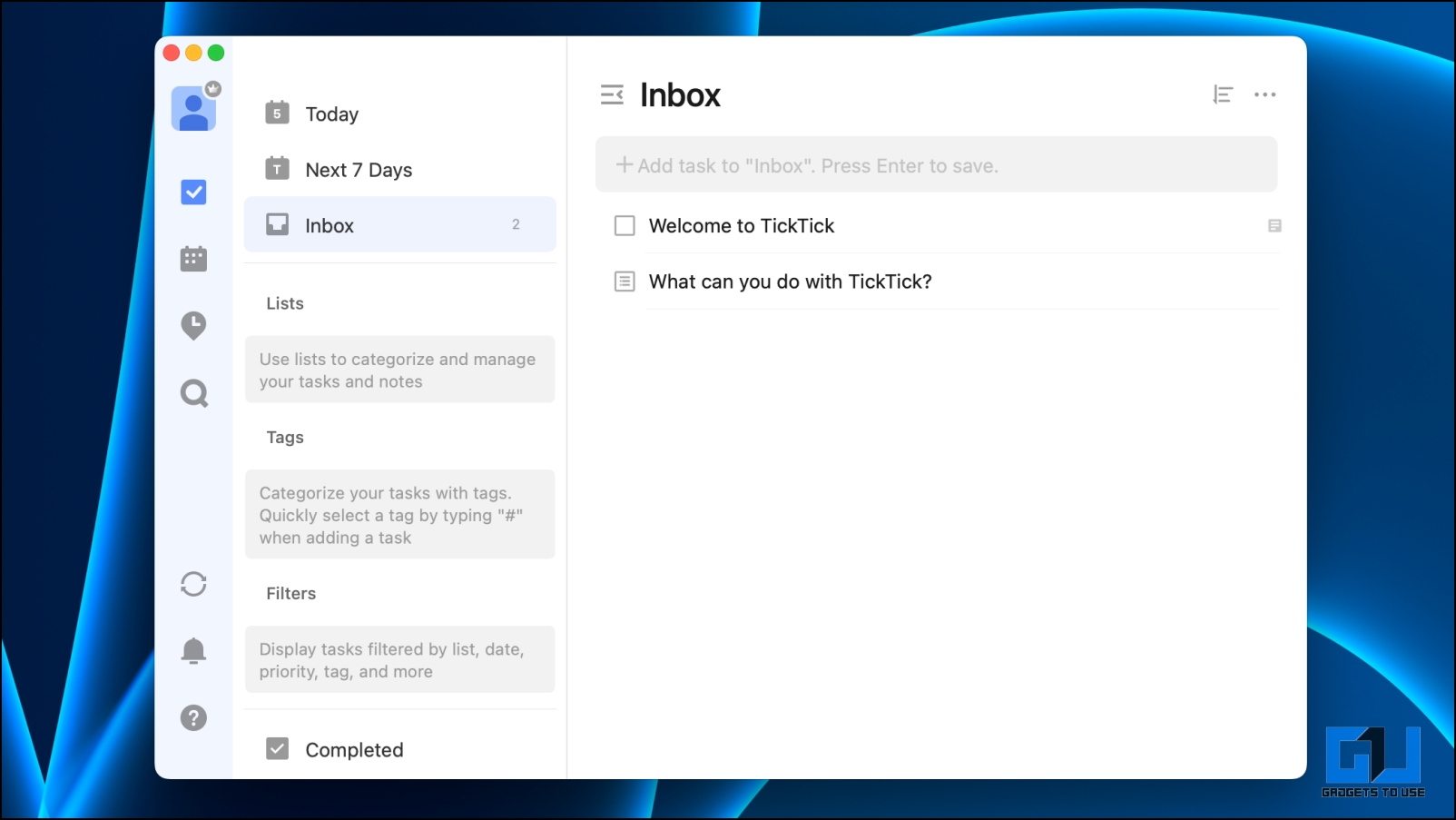 You can even create location-based tasks with TickTick and add voice notes, links, and images to your tasks. You can also collaborate with others or assign tasks to them with TickTick. The only issue is that some features like task duration and historical stats are not available in the free version of the app.
Pros:
Makes it easy to add and manage tasks.
Lets you add images, links, voice notes, and files with tasks.
Available on multiple platforms.
Cons:
Certain features are only available in the Pro version of the app.
Download: TickTick
Microsoft To Do
If your work is more centered around office 365 and other Microsoft services then Microsoft To-Do will be the best pick for you as a to-do list app for your Mac. For starters, the Microsoft To-Do list features include syncing data with Outlook and letting you add steps to a task, and helps make it easier to complete.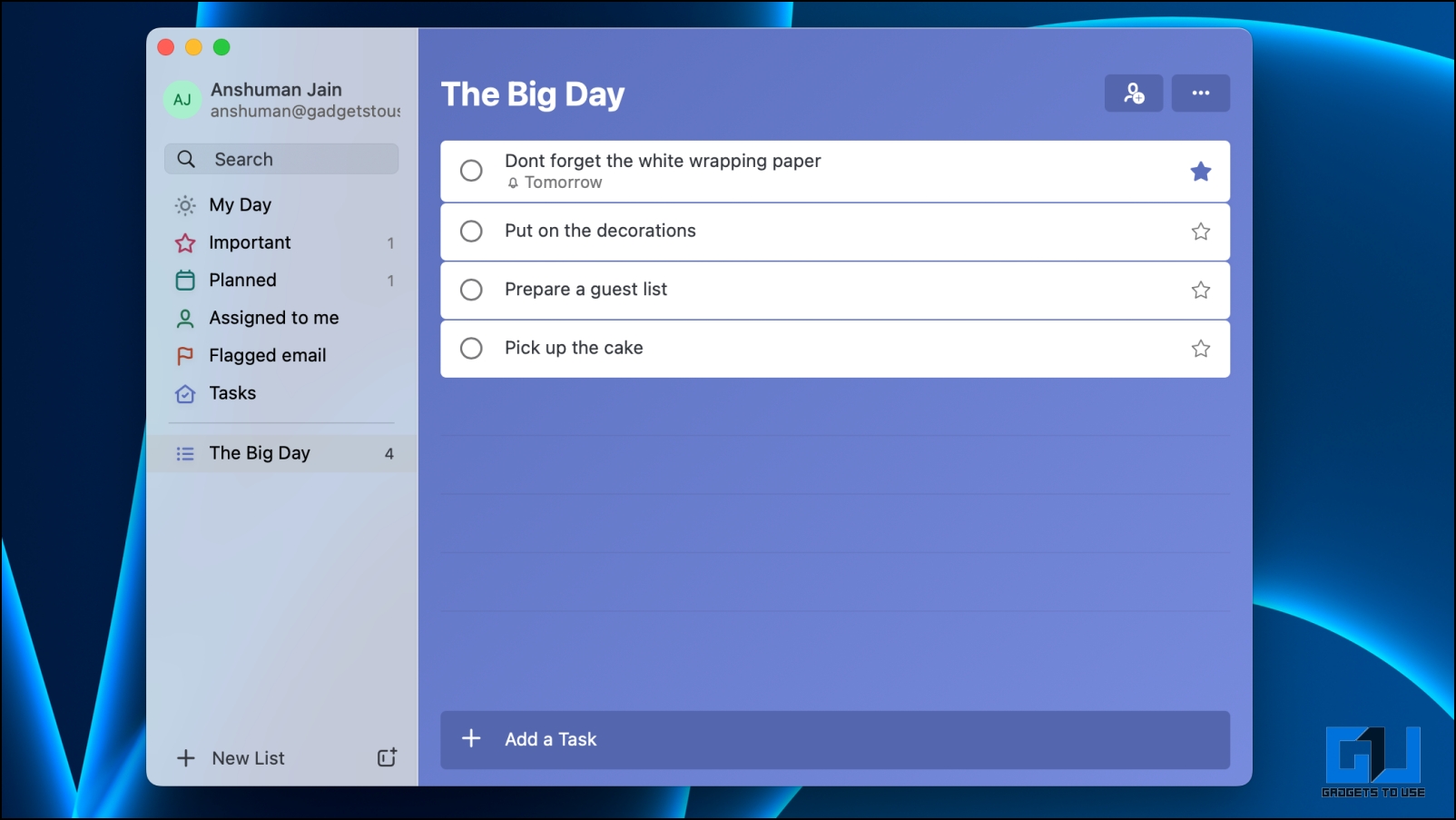 You can set up recurring tasks and alerts for regular activities and check your daily agenda. Microsoft To-Do also has a Suggested Tasks feature that will help you prioritize tasks for the day. You can also add location-based reminders and collaborate with others.
Though there is no premium membership for this app, it does lack some additional collaborative features available on other to-do list apps.
Pros:
Sync with Microsoft Outlook to keep the workflow in sync.
Features like Suggested Tasks help to prioritize tasks.
Create steps and sub-tasks for better management.
Cons:
The creation of location-based reminders is limited to Cortana.
Certain collaborative features are missing from the app.
Download: Microsoft To Do
OmniFocus 3
This is an Apple-exclusive to-do list app and is designed to work well on Mac. It has even received Editor's choice on the App Store. OmniFocus is based on the Getting Things Done (GTD) method of productivity trademarked by David Allen.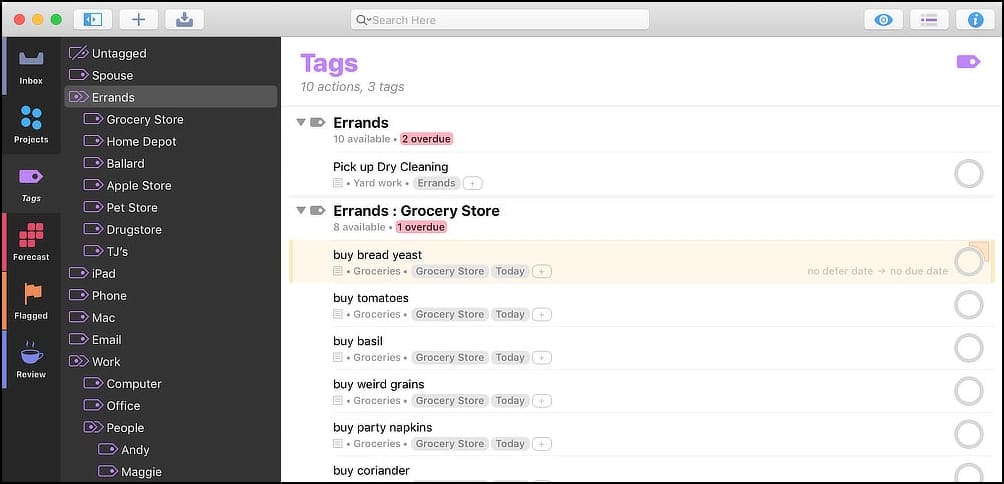 The app does have a learning curve but once you set it up based on your requirements, it can turn out to be the best to-do list app. It has plenty of useful features like outlines, reviews, perspective, enhanced recurring tasksand much more.
OmniFocus is praised by its loyal users however the app is focused on solo task management. Moreover, it is not entirely free to use as you will have to buy the standard version after the free trial ends.
Pros:
Based on the infamous GTD productivity method.
Exclusive to Apple devices.
Comes with a variety of enhanced features and services.
Cons:
Does not come with any collaboration features.
Users will have to purchase the standard version once the free trial ends.
Download: OmniFocus 3
Any.do
If you are looking for a to-do list app with real-time sync between all your other devices and Google calendar then Any.do is the option to go for. Any.do is another Editor's choice app that has a Clean and simple interface making it easy to pick up and use.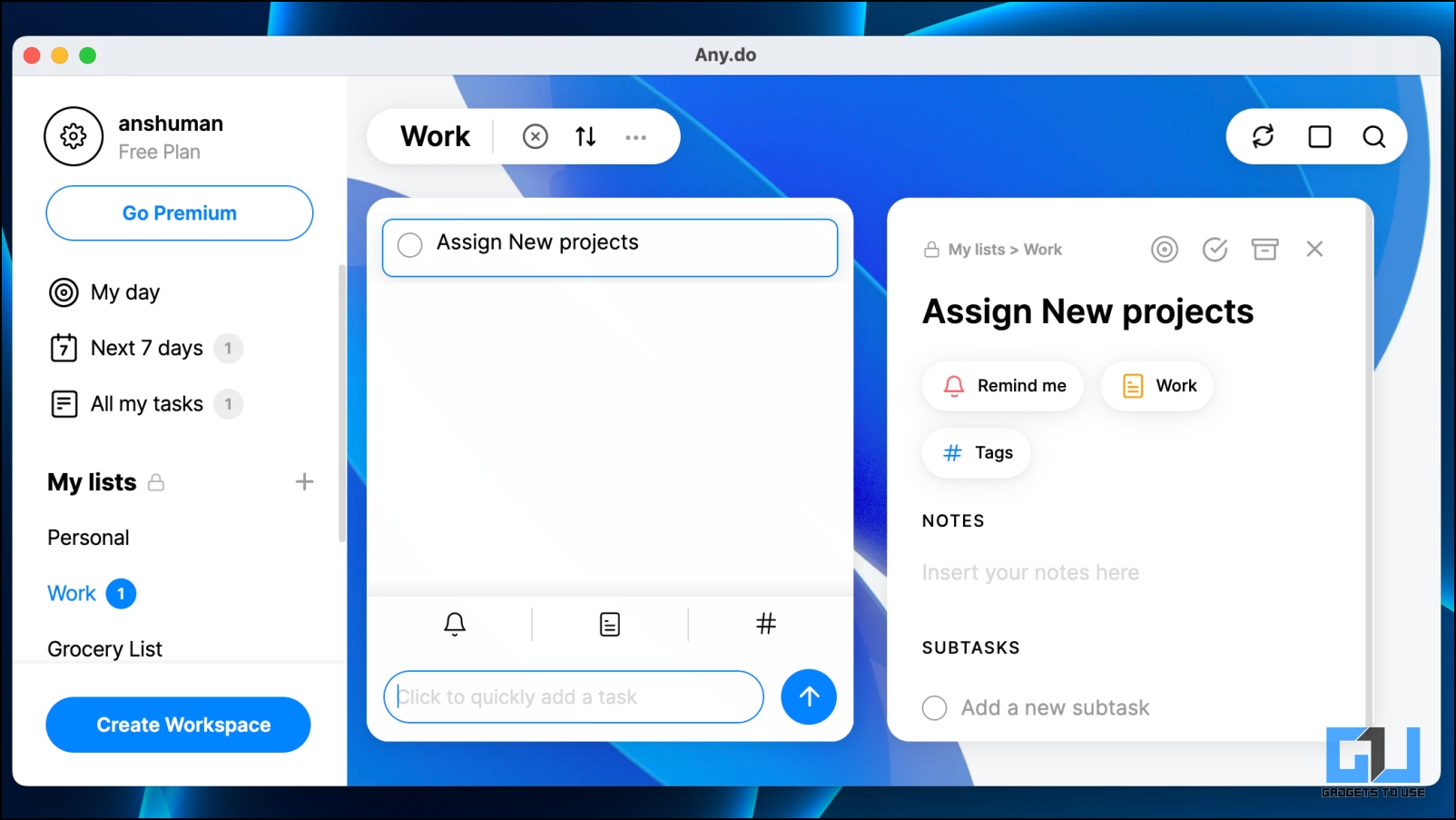 It comes with a built-in calendar, an option for recurring reminders, priority tags, and location-based reminders. Though the highlight is its ability to collab with others to share tasks, lists, and other projectswhere users can make changes and update them in real-time.
Pros:
Sync with multiple devices across platforms.
Clean and minimal interface.
Comes with a built-in calendar for better task management.
Cons:
Features like recurring tasks, location-based reminders, and colored labels are locked behind the premium version.
Download: Any.do
Evernote
Evernote is one of the most popular note-taking and to-do list apps used by millions of people for personal, business, and educational purposes. Given its popularity, the app is Available on all major platforms and devices including Mac devices.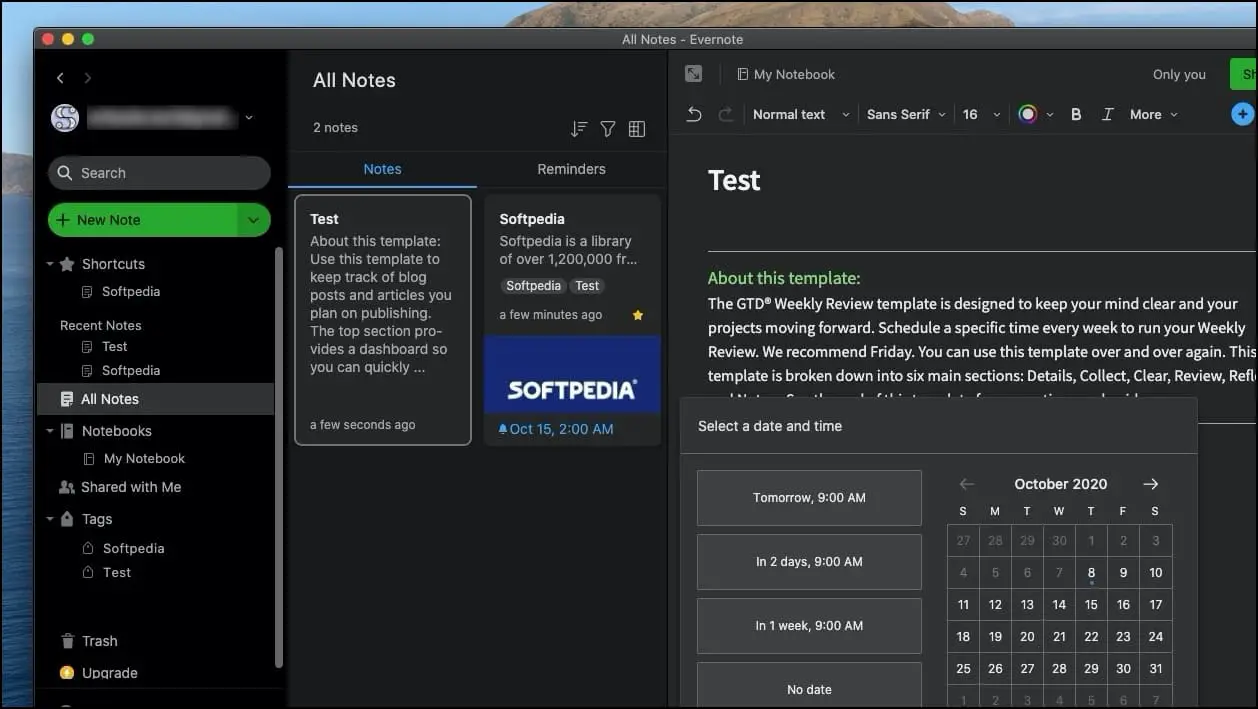 As for productivity, it comes with a suite of features like adding articles and links to your tasks. Ability to scandocuments, and business cards using the cameraauto sync with connected devices, and option to connect with Google calendar.
But it also has its limitations, if you are planning to stick with the free version as you can only create notes of sizes up to 25MB, connect only 2 devices, and miss out on Google Calendar sync.
Pros:
Variety of productivity features.
Auto sync with connected devices.
Scan documents and cardsusing your device camera.
Cons:
The free version limits the task size to 25MB.
The option to add a due date and connect to Google Calendar is only available on the Premium version.
Download: Evernote
Structured
Structured is among the best-designed to-do list apps available for Mac that helps you stay organized and up to date with all your current and upcoming tasks. The app has an elegant design that makes it easy to plan and manage your to-do list.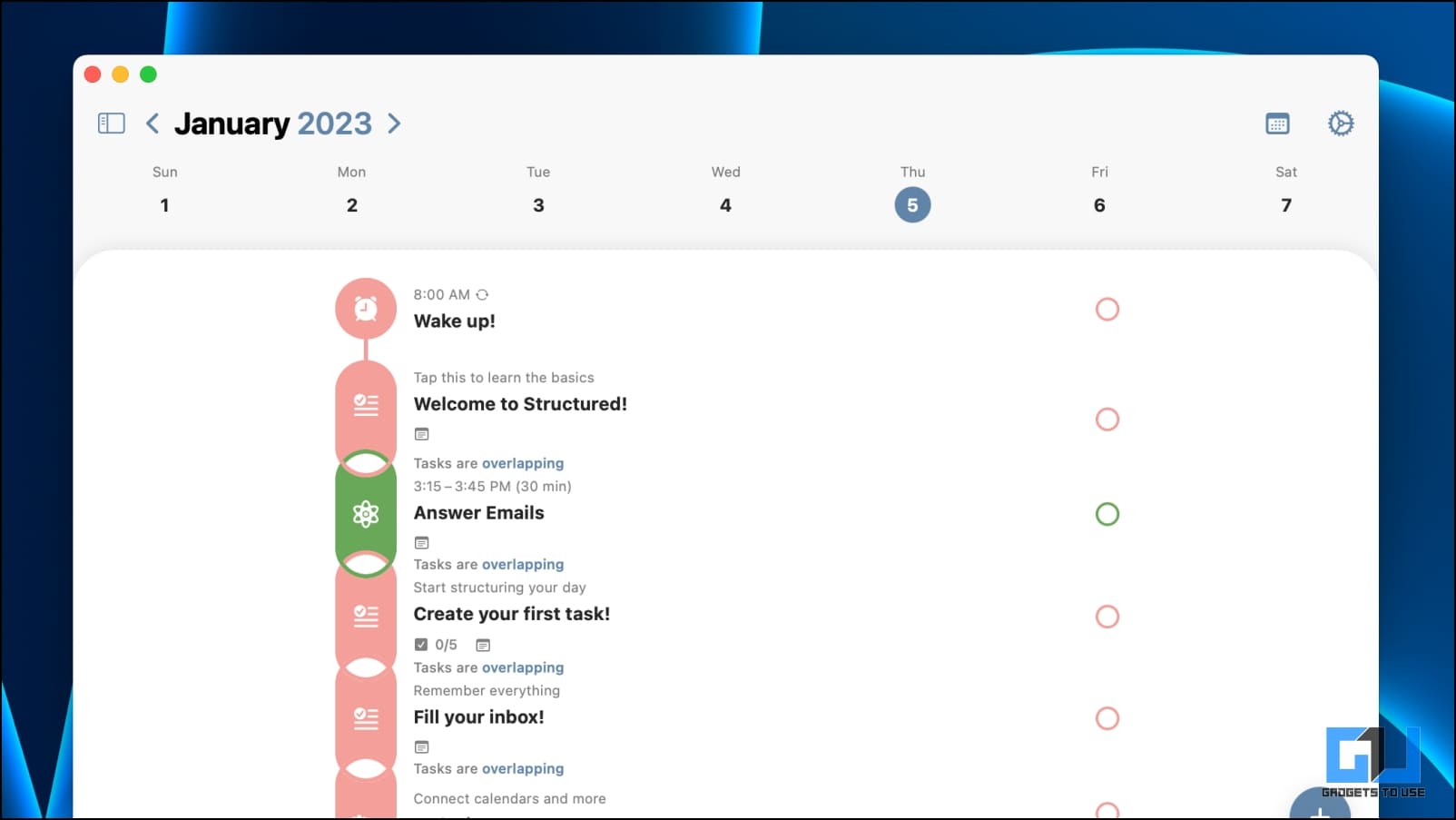 It comes with a built-in calendar to import tasks, reminders, and events from your Apple calendar. Structured also supports iCloud sync and backups your data on iCloud Drive. You also get a decent amount of customization options including changing the tasks icon and adding sub-tasks.
Pros:
Ability to create recurring tasks, and sub-tasks.
Automatically sync with iCloud and backups data to iCloud Drive.
Customization options to help you easily manage and curate your tasks.
Cons:
Designed for mostly solo usage.
Certain customization options and features are only available in the Pro version.
Download: Structured
Reminders
As a Mac user, you should try out Apple's Reminders app if you haven't yet already. The app comes built into your device which means it is completely free to use and syncs with iCloud data and other devices. Where multiple users can add to a list, edit reminders or change tasks in real time.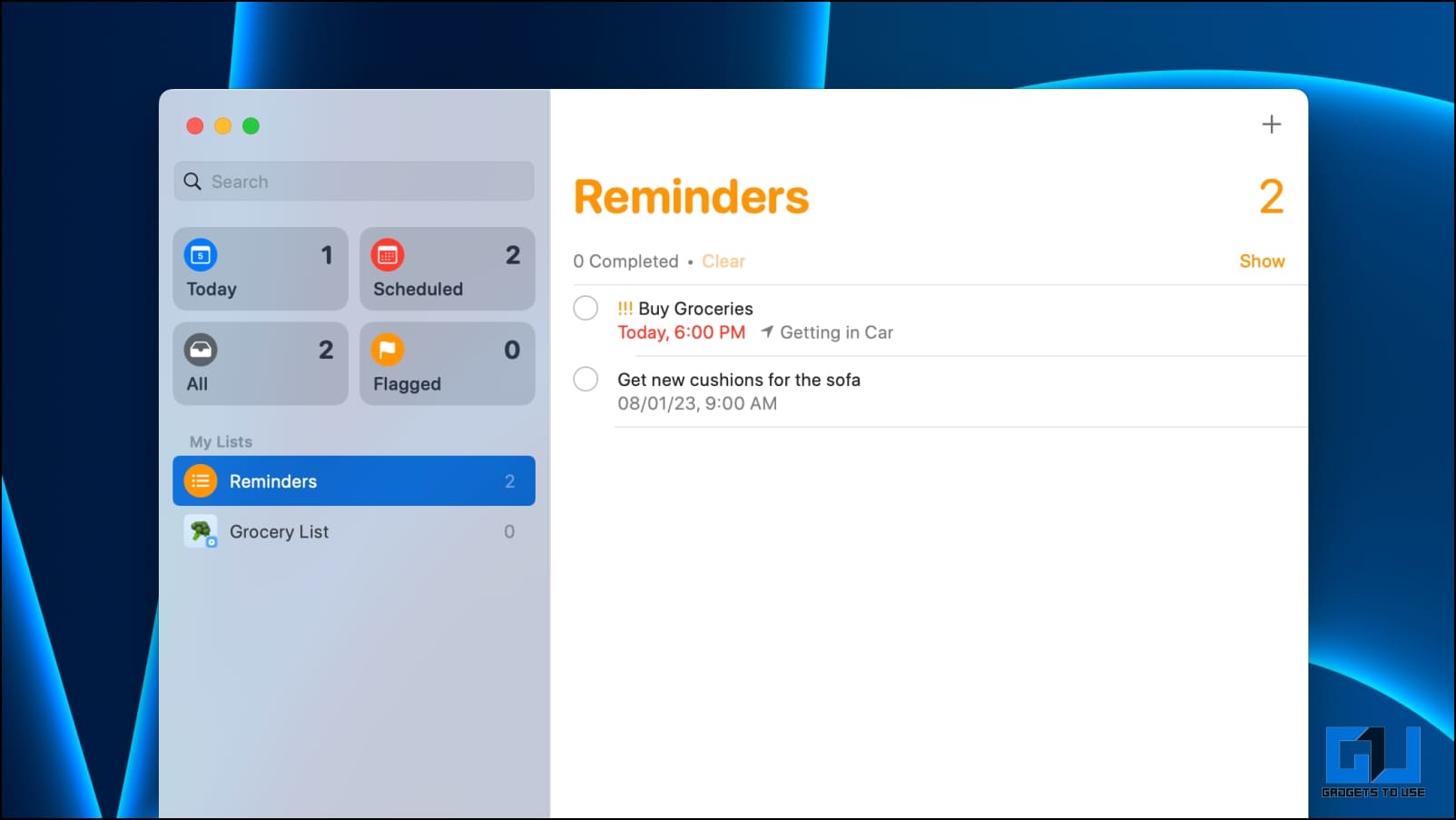 Apple Reminders has received a design overhaul back in 2019 which made the app more useful. You can create tasks, add reminders and lists, and recurring tasks or alerts. On top of that, you can add tags, and flags and change the to-do list icon with emojis.
The app is barebones compared to other more productivity-oriented apps but covers all the basics for a to-do list app.
Pros:
Comes preinstalled with Mac devices.
Completely free to use.
Syncs data with iCloud and other Apple devices like iPad and iPhone.
Cons:
Lacks some advanced features.
Google Tasks
People whose work is dependent on Gmail, Google Drive, and other Google services, can try out Google Task. This is not available as a standalone app but can be downloaded as an extension on a Google Chrome browser.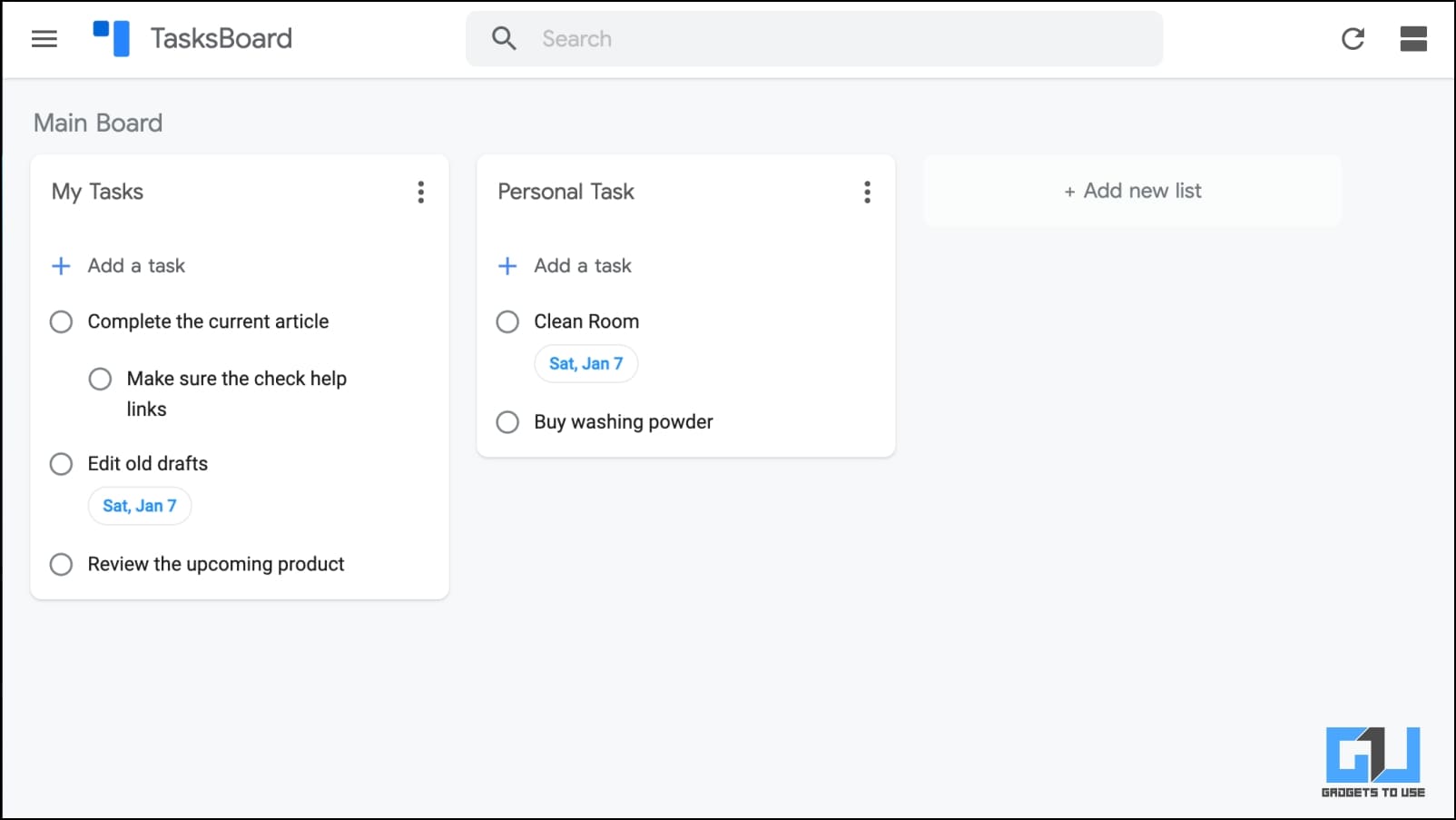 Google Task is more focused on productivity as it lets you share and collaborate on projects with teams, convert emails as tasks, organize tasks, and list based on due date and priority. Its integration with your Google account means that you can access your files from Google Drive and sync tasks with Google Calendar.
Like Apple Reminders, it also lacks in a few departments when it comes to features, and even then, some features like task labels, background customization, and sharing entire boards with teams are locked behind the premium version.
Pros:
Sync across all Google devices.
Convert emails into tasks and to-do lists.
Share task lists, and boards with teams.
Cons:
Some collaborative features are not present in the free version.
Lack of advanced task management and list-creating features.
Download: Google Task
FAQs
Q: Is Google Keep the Same as Google Task?
A: No. Google Keep is geared towards more personal and solo note-taking and to-do list functionality and is completely free to use. On the other hand, Google Tasks is focused on professional and team-based task management and sharing.
Q: Can I use the Microsoft To-Do App on a Mac?
A: Yes. Microsoft To-Do is available as a standalone app on the Mac App Store, that you can download and start using for free on your Mac. Moreover, you can also install it on your other Apple devices for easier task management.
Q: Does macOS have a Built-in To-Do List App?
A: Yes. On your Mac device, you can find the Reminders app which should fulfill most of your requirements as a to-do list app. The Reminders app is free and lets you sync your data with iCloud.
Wrapping Up
This brings us to the end of this list. These were the top nine best to-do list apps for Mac that you can use for free. All the listed apps are among the best for Mac users and will help you stay organized and manage even the little things that matter to you. Do let us know if you have a suggestion or a query and stay tuned on Gadgets To Use for more such articles, reviews, and How-Tos.
You might be interested in:
You can also follow us for instant tech news at Google News or for tips and tricks, smartphones & gadgets reviews, join GadgetsToUse Telegram Group or for the latest review videos subscribe GadgetsToUse YouTube Channel.